Almost $1 million dollars richer!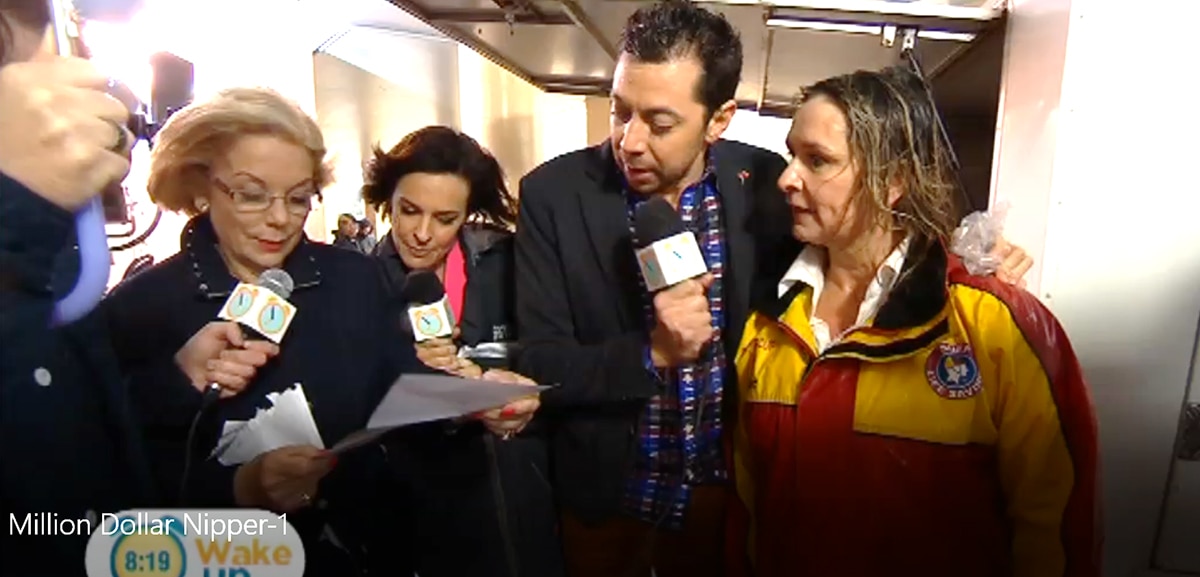 Here I am, Rikki from Radar appearing live, on National Australian television representing Tasmania on the "Wake Up" morning programme, filmed at Queenscliffe Surf Life Saving Club, near Manly for my chance to win a million bucks!
This was a competition where contestants were flown in from each state around Australia for their chance to win one million dollars, thanks to Channel 10.
In a nutshell, there were 100 pegs placed in the sand on Manly beach. Buried under one of the pegs was an envelope containing the million dollar voucher – the other 99 were consolation prizes. Yes, it was me, Rikki -eee!!! I was the lucky entrant selected to choose a peg and dig up an envelope that would hopefully find me one mill richer.
It was an action packed morning being led around the studio by Sam Mac, who is now the current weather presenter on Channel Seven 'Sunrise' morning programme. What a guru he is!
On this wet, windy November morning, I was interviewed in the blinding rain, and then on hands and knees, filmed digging in the sand with bare hands to hopefully raise the treasured 'million dollar envelope" … all live on national television. At least the Channel Ten crew were kind enough to loan me a Queenscliffe SLSC wet weather jacket so I didn't get soaked through! Needless to say I didn't win $1 million but felt privileged to be presented with my consolation lucky prize by the legendary editor Ita Buttrose and the hosts of the Wake Up show. Despite my wet hair and face with no make-up, thank you Manly weather, so happy to say that I did win a holiday (flights and accommodation) to my choice of anywhere in Australia.
It was never revealed which peg the $1 million dollar voucher was under! Then again, I'd rather not know … imagine if it had been buried under one of the pegs next to my peg??? BTW, the other contestants didn't walk away empty handed, they each received a mobile phone.