Your Complete Marketing & Promotions Solution
Radar is a fully accredited advertising agency, established in 1993, and remains an embedded powerhouse in Tasmania's marketing and promotional landscape. Radar takes pride to be Tasmanian owned and operated, with well-earned brand trust.
Television advertising reaches your target audience quickly and encourages them to respond.
Instore tastings, general promotional and marketing activities, character actors and spruiking.
We have a host of talented and experienced Brand Ambassadors available to promote your business product and/or service.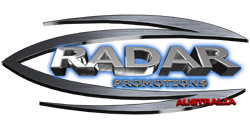 Tim and his team have been extremely helpful in advising us on the structuring, presentation and positioning of our message to maximum effect.

David, Tint-a-Car Hobart
YES, YES, YES IT WORKS!!!
I can see growth in my business
Dani, The Party Room
Every one of our new enquiries has come directly from Tasmanian Leisure and Pleasure
Alastair Matthewson, Tasvend
We have had the most successful season for many years
Rudi Van Dort, Anchor Wetsuits
BINGO! You've nailed it! Thank you so very much for your professionalism and patience.
Tom Payne, Tasmanian Celebrations
Mate, as they say in the classics, "luv ya work!"
Dean, Jim's Computers
We are all seeing lots of new faces and the feedback coming back from them is positive.
Ellie & Kostas, Kostas Fresh Produce, Island Markets

How exciting! Thankyou so much Rikki – ALMOST worth delaying my flight to Bali just to see it on TV ... ALMOST! Thanks again.
Heidi, Hobart Formal
Just wanted to say the feedback I received from the Specsavers Report was really great! Thanks so much.
Rebecca Evenden, Campaign Coordinator
Thanks Tim, Rikki (Radar Promotions) ... IT TRULY DOES WORK!
Rob, Owner, Dip'n'Strip